14/10/2008
EN
WHAT? The third edition of the THA4 action, aka THA4-3
WHEN? As of today and for an unlimited period of time
WHERE? Globally, wherever Tokio Hotel are
WHO? All the fans (worldwide), maybe you

The Official Belgian Tokio Hotel Fan Club is proud to launch the third edition of the THA4 action.

I. What were the THA4 & THA4-2 actions about?
For the THA4 (aka LOGO), we asked you to flag 7.000 TH logos during 'Wo Sind Eure Hände', on the October 14th 2007 show in Brussels.
For the THA4-2 (aka FREI), you had to flag 7.000 FREI (free) A4 papers during 'Ich brech aus' (Break Away) et 'Schrei' (Scream), on the March 3rd 2008 show in Brussels.
How successful were these actions? Judge by yourself... VIDEO

II. What is the THA4-3 action about (aka PICS)?
The first 2 editions of the THA4 action required the participation from the public during the Brussels shows. Whereas this time the action is open to all Tokio Hotel fans around the world.
Forget about A4 papers, forget about being all together in one place, forget about a concert hall...
This time it's about you and them... on a picture... somewhere on this planet.
However, we bring to your attention the fact that this new action requires very strict rules to be followed, and anyone who dares to overrule these rules will loose our support and will be disqualified.
To make long things short: the THA4-3 is about taking a picture with one or more members of Tokio Hotel, and to do your best to make your picture look the most unexpected way possible.
Take a look at the 2 below pictures, as they very well illustrate what we have in mind. These pictures were taken during a Meet & Greet on June 1st 2008 in Lisboa (Portugal).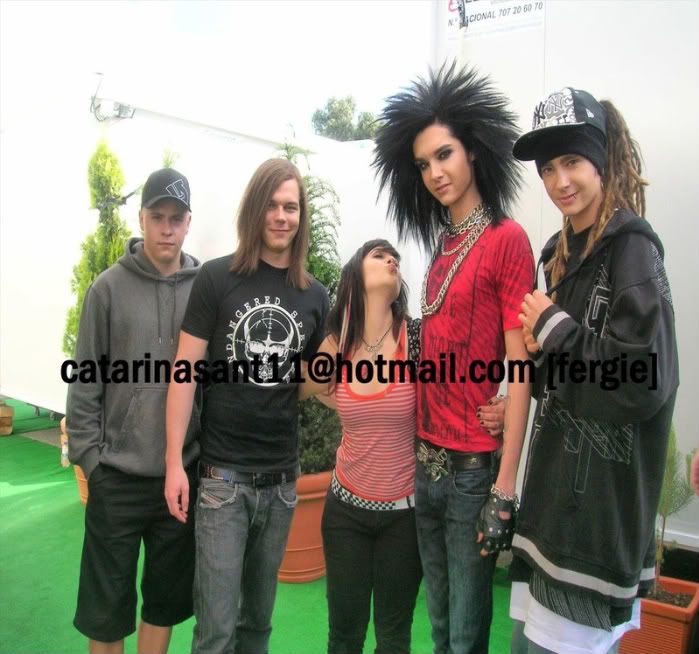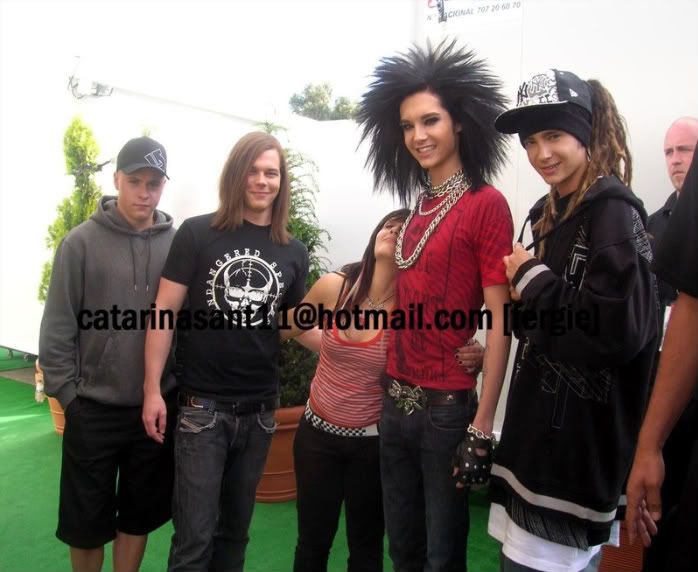 III. How can I take part in the THA4-3 action?
Be brave but still a little crazy, even if being with Tokio Hotel might stress you. Follow the rules (see below). Be creative and do something unexpected and out-of-the-box.
Talk about the THA4-3 action around you. Add the link to this blog (tokiohotel-belgium.skynetblogs.be) on your own blog, site or forum in order to inform as many TH fans as possible. Spread the word to the world!

IV. What are the rules of the THA4-3 action?
1. The THA4-3 action must only happen in presence of the TH group members.
It is forbidden to use the THA4-3 as an excuse to bother Bill, Georg, Gustav or Tom in their private life. So the THA4-3 only applies when meeting with TH for Meet & Greet, promotions or any other moments when they're working and promoting their music. Examples: interviews, television, award shows.
Do NOT ask for a THA4-3 picture when they're coming out of their private house/apartment/studio.
2. ALWAYS ask for permission before you even dare taking the picture.
3. Getting THE out-of-the-box picture is great, but do not put your life in danger for it, neither theirs. Do NOT test the patience and reaction of their bodyguards, as you would get into serious troubles, and so would we... We hope this part is clear.
4. Respect them and be polite in all circumstances. Wanna have a picture while pinching their bum? Why not... but only if you have previously had their approval to do so.
5. The best THA4-3 pix will be awarded at the end of the year through a survey.

Vampire G & THA4 Staff
Official Belgian Fan Club of Tokio Hotel : http://www.tokiohotel-belgium.net/
Official THA4 Blog : http://tokiohotel-belgium.skynetblogs.be/